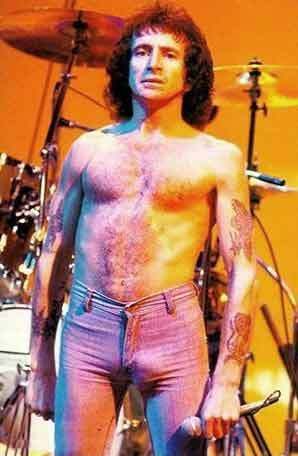 Bon Scott, vocalist, AC/DC (b.1946-d.1980)
"Ahem, thank you all for coming to my lecture,
"The History of AC/DC"
parts 1 through 25, this will include an extensive discussion of source material and will include a reading of a transcribed interview that I conducted with head professor of Musical Theory at the Unive...excuse me, yes you...please pay attention. Thank you. As I was saying, now, where was I? Oh yes. Part one.
Post World War II Australia presented an ethnically diverse population, due in part to massive volume immigration, and indeed, the influx contributed heavily to pushing Australia into an economic boom and...EXCUSE ME! I'm talking here, whatever in the world are you finding much more engaging? YOU! Yes, you,
Miss Invisible
, if you would at least afford me the simple courtesy of looking at me when I'm talking to you I would very much appreciate it. Whatever your eyes seem to be trained upon over my head surely cannot be more engrossing than the wonderful knowledge that I am imparting to you, can it? Ahem, that's better. Now let's continue.
Hmmmmm...right. Economic boom and prosperity. The rate of home ownership rose dramatically from barely 40 per cent in 1947 to more than 70 per cent by 1960. Many of these new home owners were Scottish born...OKAY! THAT'S IT! Everyone show a little decorum, stop giggling at whatever in the world you find so funny and, excuse me, why are all the gentlemen in the room now making a mass exodus? Was it something I said?
To continue, one of these Scottish families, The Scotts, took the long journey from Kirriemuir to settle in Sunshine, Melbourne. Isabelle Scott, a hardy of physique yet soft spoken...ahem,...sorry...woman who took delight in...ahem...again sorry...
Fuck this action.
HAAAAAAAAAAAAAHAAAAAAAAAAAAAAAAAA! Oh my god!! HAAAAAHAAAAAHAAA. Oh my eyes! Check it. Bon is packin' a "Whole Lotta Garden Hosie".
Okay. Let the discussion begin. Every good lecture has one. Or in this case, two.
currently listening to: AC/DC, Flick of the Switch...and to the sound of my own hysterical laughter. Apologies to anyone who took offense, this blog will now return to regularly scheduled PG rated programming. But remember, I've got big blog, I've got big blog, I've got the biggest blog of them all!

I left "MY LOVE" blank cuz that picture, as you know is right up there at the top of the post. Thanks to Miss I. for making me do this!