THIS IS PERHAPS THE GREATEST ROCK PHOTO EVER.
"It's better to burn out than to fade away."
Talk to me Neil, I couldn't agree more. But let us for just one, brief, fleeting moment take the heavy weight from off that ubiquitous, but none the less history-making lyric. Let me pull ya over just momentarily to the lighter side, to a place or parallel universe, where that lyric reads
"It's better to side-burn out than to shave clean".
After we're done here, the lyric can return to its original content and context, to the place where rock journos dissect and debate its meaning using thousand dollar words, and where Cobain used it to say
Adios world, I'm outta here
.
I cannot thank Allan over at
CamelsbackandForth
enough for sending me this bad-ass pick of Ray Manzarek in all his side burned glory. Allan's a kindred spirit who just knew I would love it. And he was right. Fuckin'A. I can never resist a big ole serving of obscure solo album with a side dish heavy on the mutton chops. The pic is from the back of Ray's 1974 album called, get this action,
"The Whole Thing Started With Rock & Roll And Now It's Out of Control".
Including the length of that title, Ray...easy, easy, brother, stop in the name of Sharpie-ing all that to fit when writing onto a just burned CD.
But then again, fuck the burned CD, this is the kind of music made to be listened to on vinyl. Fuck the CD burn, but glorious big ups to the sideburns! And to the high-heeled, "what-R-U high?" choice of sandals! WTF? But when brother Ray is backdropped by stax of mighty ampage and fronted by a sweeping tidal wave of genius known as MOOG (pronounced to rhyme with vogue, please!)you ain't gonna question his choice of footwear.
Allan played a track on his too-cool-for school radio show, a track called "Wake Up Screaming" which features a
pre-Horses
era Patti Smith reading a Mr. Mojo Risin' poem and a
post-guesting on a crappy REO Speedwagon album
era Joe Walsh on guitar.
I had the happy occasion of telling Mr. Manzarek just how boss his burns were. Dude did a signing of his "Light My Fire" book at the gear shop where I worked. He signed it "Sideburns 'R Us" and I think he was rather amused that I appeared to value his contribution to style above the musical offerings of the Doors. He then did a short private concert for the few employees hangin' round in the keys department. I think the keyboard he used appreciated being expertedly handled by someone who didn't immediatedly break into "Music Box Dancer". Ray then glided through a three hour rock-talk for the Learning Annex the next day. So it was a Learn and Sideburn trip-out all round.
I hope y'all enjoy the pic as much as Allan and myself. It's one of those rock thangs that just makes me feel so joyous in being a music fan. Like the time I heard the story of another famous "Rockin' the Muttonchops" performer, George Jones. Tammy Wynette took dude's car keys away so he couldn't go get more booze. So what does Jones do? Cruises and boozes his way to the liquor store on the
motorized lawnmower
. John Deere became George Needs Beer. Shit man, those are the stories I live for.
George Jones, country superstar, and what a guy would look like if transformation from man to wolfman stopped and stayed at mid-metamorphisis
.
One more sideburn shoutout goes to the incredible and most compelling Anton Newcombe of
The Brian Jonestown Massacre
. His music is hellagood and his history with the burnage cannot be denied. Check out the phenomenal doc
DIG!
to see what I mean!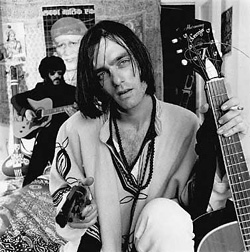 Dig it indeed! AND burn, baby burn, Sideburn Infern-o yeah!

currently listening to: Elliott Smith, From a Basement on the Hill